Jul 30, 2020 09:00 AM Central
I'm not at all a food blogger. In fact, when I find a recipe I'm SUPER annoyed that I have to scroll thru a novel. Just gimme the recipe already! (Sorry food bloggers lol) So I'll keep this short and sweet.
We LOVE Chinese food. But I don't love the price. It's a nice, special treat but I also really enjoy cooking at home... most of the time ; )
This is a recipe that is cost effective, yummy, and with a little prep ahead of time, so quick and easy! I've made this recipe so many times that I can do it without following a recipe now and always just add more or less depending on how many people I'm feeding or how many leftovers we want.
4 cups brown rice, prepared
2 cups rotisserie chicken, chopped or 1 pound boneless, skinless chicken breasts cooked
1 cup frozen peas and carrots, thawed
1/2 white onion, finely chopped
4 cloves garlic, minced (I always add more.. never too much garlic!)
4 eggs (I usually do 6. Big family, lots of boys, sports + exercise... we need alllll the protein!)
3 tablespoons sesame oil (Guessing here, I never measure. Pour until the pan is covered)
1/4 cup soy sauce (Guessing again. Just dump a bunch, taste, add more. You're welcome.)
Cook rice according to box. Dice chicken and onion. Add sesame oil to pan. Heat over medium heat. Add onion and cook until tender, 3-5 minutes. Add peas & carrots then garlic. Cook 3 minutes. Add eggs and cook until scrambled. Dump in COOKED rice and chicken. Add soy sauce. Stir to combine. Heat 5 minutes. Serve immediately.
BAM! So easy! So yummy!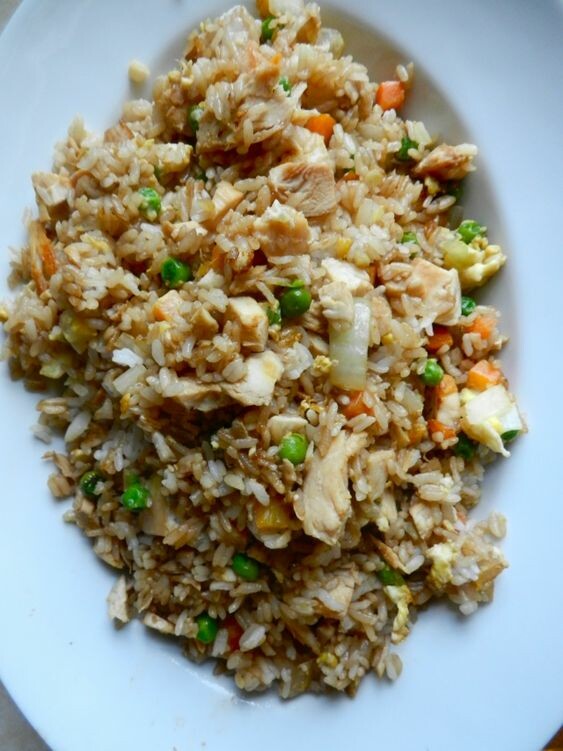 XO Jordan